THE MAIN TRAIL: A PULITZER PRIZE WINNER'S FIRST NOVEL IN 14 YEARS…
Barksins: A Novel by Annie Proulx (2016)
Driving through Michigan's Upper Peninsula, Pulitzer Prize winner Annie Proulx came across a sign she never forgot: "on this site stood the greatest pine forest the world has ever known." Twenty-five years later, her novel, Barkskins, pays tribute to the fallen hero in a three century North American epic about man's relationship with trees.
The novel begins with two indentured woodsmen who arrive in New France at the end of the seventeenth century. Each responds differently to the wilderness of "evergreens taller than cathedrals", the "leaf-choked branches" that merge into a "dark and savage" sky.
For Charles Duke, alias Duquet–self-made, shrewd, and chillingly narcissistic–the forest is all about balancing risk with yield. Hustling between Penobscot Bay and Amsterdam, China and Boston, he builds a lumber empire, shamelessly exploited by subsequent generations for the latest "tree opportunity"—paper, plywood, fiberboard, rare woods.
In contrast, Rene Sels, has a feel for trees and develops into a skilled woodsman. Even though his work involves interminable cutting, lifting and stacking—the constant of biting insects and sweat stung eyes—he enjoys the rhythm of chopping and is perpetually engaged in a "forest dance." Ditto for the sons, grandsons, and great grandsons that follow him.
But whereas the Duke family benefits financially from timber, the offspring of Rene and Mari, a Mi'kmaq, are metis–part French, part Indian–and suffer from severe discrimination–starvation, unemployment, white man's diseases and, as recently as 1967, the Canadian residential school system where thousands of aboriginal children either died or were physically or emotionally abused.
This is a long novel—700 pages–but worth the effort: Not just for the dramatic plot and characters (some whisked to jarring deaths before fully flushed out); nor for the author's grasp of natural science, anthropology and business history; nor her poetic images: the moon receded "like the hand of someone waving goodbye on a ferry."
No, Barkskins is important because it explores why bad things happen to good people—and good environments—generation after generation. Whereas the Mi'kmaq live respectfully off the gifts of the forest, the European settlers use it ruthlessly as a means to an end: clearing it for farmland, chopping it up for profit. Immensely satisfying, the novel's end game places the future of trees not just with the educated few, but also with North America's "first people," longtime guardians of the natural world.
CONNECTING TRAIL: EARLY NORTH AMERICAN SETTLERS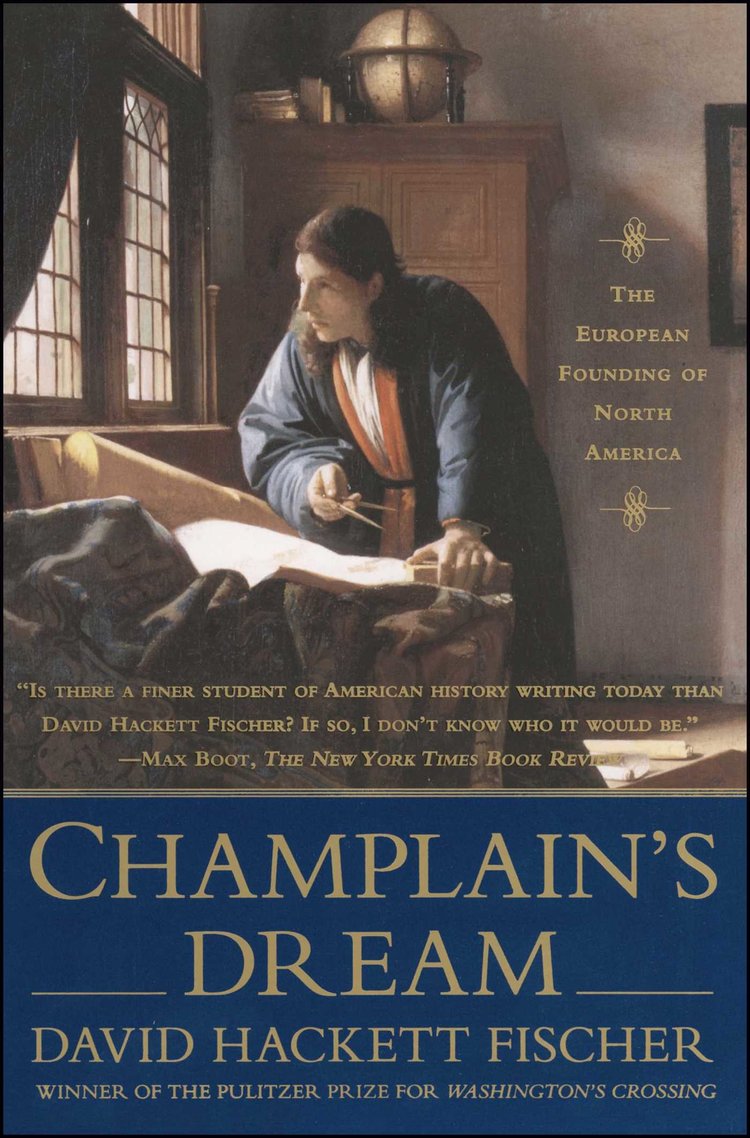 CHANGES IN THE LAND: Indians, Colonists and the Ecology of New England by William Cronon (Hill and Wang, 2003) A field guide to Barkskins by a MacArthur Fellow and semi-finalist for the Pulitzer Prize. One of the first to combine ecology and history, the author shows how the shift from Indian to European dominance effected land development in colonial New England.
CHAMPLAIN'S DREAM by David Hackett Fischer (Simon and Schuster, 2008). The biography of the visionary Father of New France by Pulitzer Prize historian/ author of Washington's Crossing. Master sailor, soldier, cartographer, artist, naturalist, ethnographer, Champlain is best honored for the relationships of mutual respect established with the Indians.
SHADOWS ON THE ROCK by Willa Cather (Vintage Classics, 1931) In contrast with the howling wilderness, Willa Cather's candlelight tour of late 17th century Quebec, where counts and bishops, apothecaries and traders struggle to shape a new Canadian identity still loyal to French values. The most charming mix of old and new: wooden lambs next to beavers in the Christmas crèche….
CONNECTING TRAIL: CANADA'S NATIVE WRITERS TODAY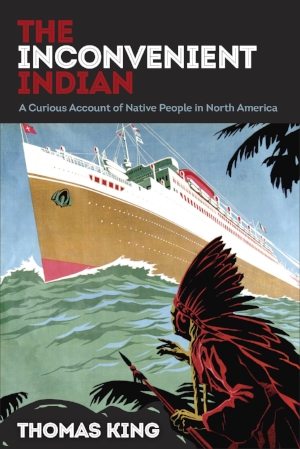 MEDICINE WALK by Richard Wagamese (Millweed Editions 2015) From acclaimed Ojibway writer and journalist, a plain but deeply moving novel about a son's lonely journey to lay his estranged father to rest, "the warrior way."
INDIAN HORSE by Richard Wagamese (Douglas & McIntyre, 2012) How an Ojibway's love of ice hockey turns his dismal experience at a residential school into one of fulfillment and redemption.
AN INCONVENIENT TRUTH: A Curious Account of Native People in North America by Thomas King (Anchor Canada 2013) Combining scholarship and activism, irony and humor, a never-too-heavy but still poignant history of the Indian in North America. A master of "zing," King separates truth from spin: When governments "admit guilt," King asks, does that mean "liable"? When they say, "I am sorry" does that mean "responsible?"
CONNECTING TRAIL: THE SCIENCE OF TREES
LAB GIRL by Hope Jahren (Knopf 2016): With warmth, humor and passion, this autobiography alternates between the life of a young Fulbright geobiologist—her projects, lab partner, family, dog–and chapter-ettes on the science of trees.
THE HIDDEN LIFE OF TREES by Peter Wohlleben (Greystone, 2016)With 320,000 copies sold world wide, this best-seller by a German forest ranger uses anthropomorphic language to explain the social network of trees—i.e. How branches lean away from each other to share light with their neighbors; how ill trees receive healing sugars through interdependent root systems.
THE FOREST UNSEEN: A YEAR'S WATCH WITH NATURE by David George Haskell (Penguin 2013) A Pulitzer Prize finalist/ biologist/ poet reflects on monthly changes inside a "mandala"—his metaphor for one square meter of old growth forest in Tennessee. The author's depth of knowledge plus the immediacy of his perceptions turn readers into on-site observers eager to uncover the latest news.
THE MAN WHO PLANTED TREES: A Story of Lost Groves, the Science of Trees and A Plan to Save The Planet by Jim Robbins (Spiegel and Grau/Random House, 2012). Written by a New York Times Science writer about a man who, following a near-death experience, cloned the world's champion trees—willows, oaks, redwoods–to preserve their DNA in case of environmental catastrophe. Worked into the human story: how the destruction of forests effects human disease, temperatures, flooding, rain fall and pollution plus the latest techniques in "restoration forestry" and "afforestation" (the planting of new sustainable trees where there have never been any).
THE TREES IN MY FOREST by Bernd Heinrich (Ecco/Harper Collins 2003). Winner of the John Burroughs Medal for Natural History Writing and nominee for a National Book Award, this biography of a 300-acre forest in Maine is told from the viewpoint of a property owner/biologist. Touring his woods, various mysteries are explored: i.e. why some white pine trees produce cones while others do not? Or why the bud of an apple blossom blooms pink on the branch but white in a jar? Personal anecdotes, drawings, and quotations keep the pages turning.
WILDWOOD: A Journey Through Trees by Roger Deakin (Free Press 2009). An icon British naturalist travels off the beaten path to uncover man's spiritual/cultural connection with wood: the soldiers who carved walking sticks in the trenches during World War I; a hunting party for moths in a moonlit forest; a trek to uncover the ancestral roots of the apple in Kyrgyzstan and the bush plum in Australia. Exotic adventures, exquisite prose.
CONNECTING TRAIL: ARTS & CRAFT FROM THE TREE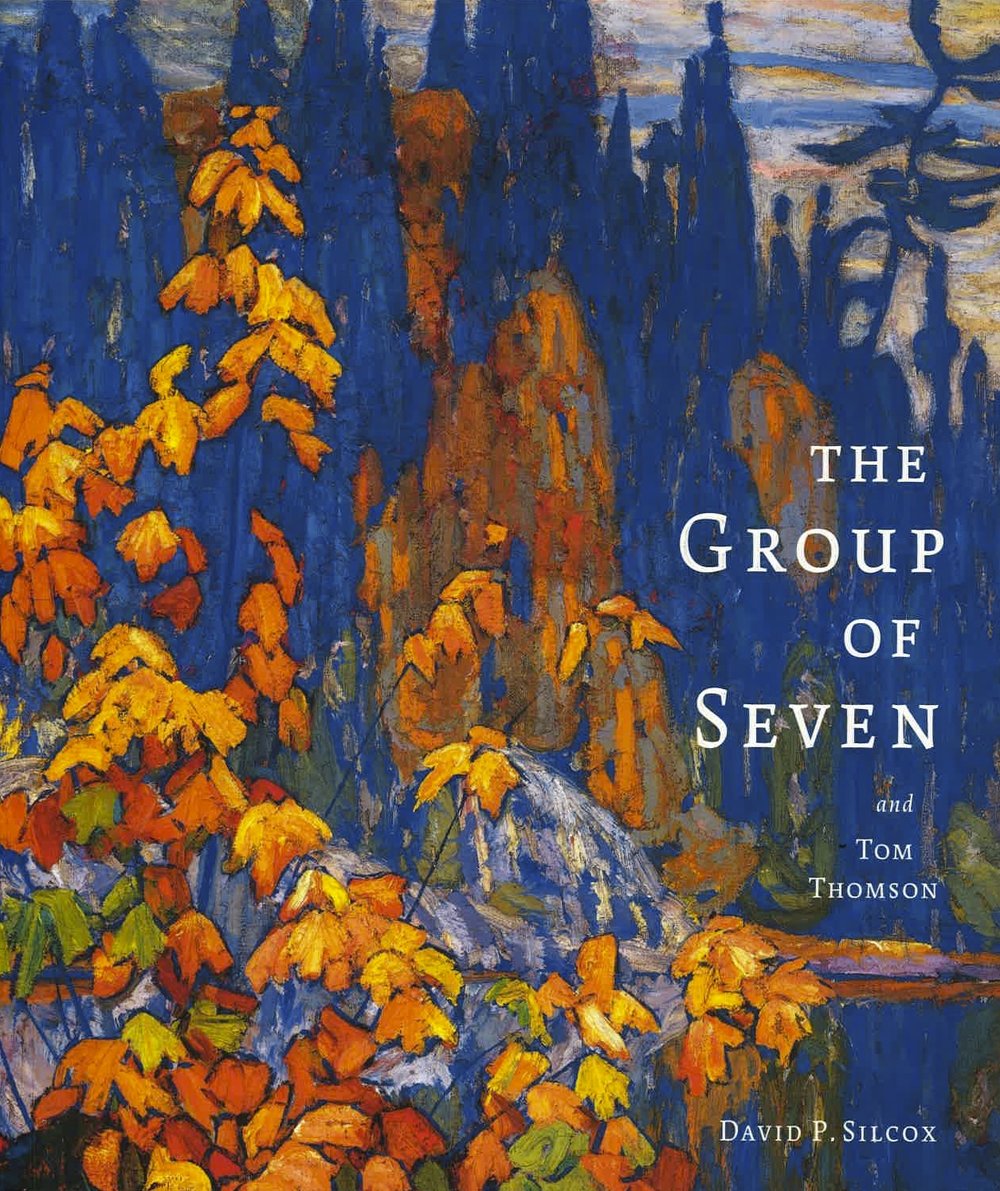 THE GROUP OF SEVEN and Tom Thompson by David P. Silcox (Firefly Books, 2011). How a group of artists in the 1920's helped Canada imagine itself in urban, domestic and natural settings. Particularly memorable: portraits of wilderness–sometimes logged wasteland, desperate and empty, sometimes explosions of colorand sinuous shapes. The treescape north of the border memorably expressed.
NORTH BY NORTHEAST: Wabanaki, Akwesasne Mohawk and Tuscarora Traditional Arts by Kathleen Mundell (Tilbury House, 2008). Beautifully photographed bark objects and baskets by Native people in New England and maritime Canada, including the 21st century Micmac, celebrated in Barkskins.
AT HOME IN THE AMERICAN BARN by James B. Garrison (Rizzoli, 2016). Showcasing the current trend for reclaimed wood in architecture, twenty-three renovated barns—Vermont to Pennsylvania—showing how the past can invigorate the present, inside and out.
THE MAN WHO MADE THINGS OUT OF TREES by Robert Penn (W.W. Norton, 2016) The Times, London Book of the Year. A British writer/ journalist/ cyclist explores crafting axe handles, baseball bats, toboggans, desks and more from a 60' high ash tree from his own woods.
CONTEMPORARY TURNED WOOD: New Perspectives in a Rich Tradition By Ray Leier, Jan Peters, and Kevin Wallace (Hand Books Press 1999) One-of-a-kind containers by master turners. Some emphasize the imprint of nature, others layer the wood with add on techniques: sandblasting, piercing, painting, assemblage.
THE SOUL OF A TREE: A WOODWORKER'S REFLECTIONS by George Nakashima (Kodansha, 2011) How an artist-craftsman's knowledge of grain, proportion, wetting and matching turns a fallen tree into furniture sculpture. Insightful prose and sketches.
EMILIE BRZEZINSKI: THE LURE OF THE FOREST by John Beardsley & Aneta Georgievska-Shine (D.A.P/Distributed Art Publishers, Inc. 2014). The mother of Mika (co-host of MSNBC's Morning Joe) and wife of Zbigniew (National Security Advisor in the Carter Administration) who was inspired by minimalism and natural forms to breathe new life into fallen trees. Work includes arches, bowls, benches, abstract sculptures and entire forests of branchless trunks. See also the tree art of DAVID NASH(Introduction by Norbert Lynton, Abrams, 2007).
WOOD by Andy Goldsworthy (Thames and Hudson, 2013). Snow balls, stacked sheets of ice, spires of stone, "thorned" together leaves—each placed in situ with trunks and branches, then photographed by the famous British land artist to capture the interaction of nature and trees.
BARK by Cedric Pollet (Frances Lincoln Limited, 2010). More like abstract paintings than photography, 81 close-ups of bark from around the world, each "camouflage" pattern combining edgy texture and hue–from parrot psychedelic to peregrine browns.
ANSEL ADAMS TREES(Edited by Janet Swan Bush, Little Brown and Company, 2004) Captured by the much honored nature photographer, the moods of trees—orchards dancing; parched stumps, dying; pines reclusive in the mist. No muddled statement–each black and white print rings with the clarity of a crystal bell.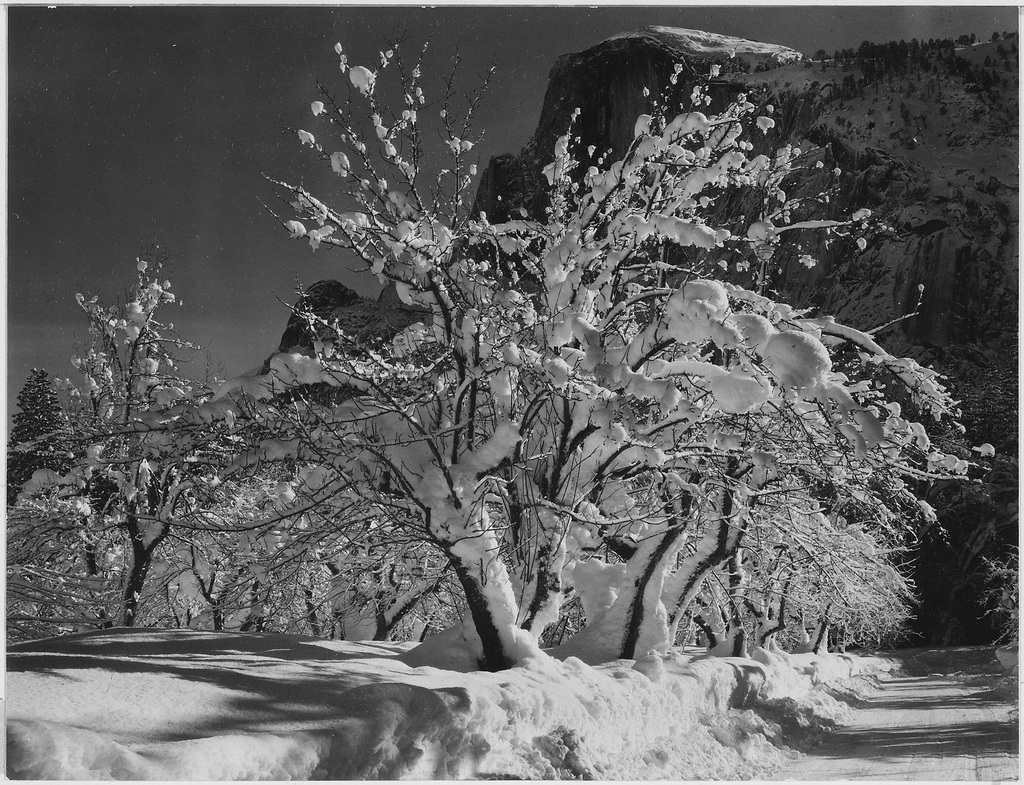 Trees with snow on branches, "Half Dome, Apple Orchard, Yosemite," California. April 1933. Ansel Adams
SECONDARY PATH: CHILDREN & TREES
STRANGE TREES AND THE STORIES BEHIND THEM by Bernadette Pourquie and Cecile Gambini (Princeton Architectural Press, 2016) Using imaginative out-loud language plus whimsical borders, this magical book tells the story of 16 unusual trees from around the world: i.e. the Chocolate tree from South America, the Ghost tree from China, the Sausage Tree from Africa.
PLANTING THE TREES OF KENYA: The Story of Wangari Maathai by Claire A Nivola (Farrar, Straus and Giroux, 2008). Brought up to think not of herself, but the world beyond, Wangari Maathai, winner of the 2004 Nobel Peace Prize and Founder of the Green Belt Movement, was a one-woman effort to reverse the destruction of commercial agriculture on local Kenyan life. Her solution: plant seeds and grow trees. Miniature-like illustrations help little people relate to activists early on.
DK EYEWITNESS TREE by David Burnie (DK Penguin/Random House, 2015) For older children, a reference book about the science of trees—their history, how they grow, their body parts, their care and management (including deforestation and conservation). Stunning layout for a wonderfully educational book.
THE GIVING TREE by Shel Silverstein (Harper Collins, 1964) A family read in honor of the tree, which, since the beginning of time, has given selflessly to each and every one of us.
UNEXPECTED VISTAS…
–Tree Climbing: The Wild Trees: A Story of Passion and Daring by Richard Preston (Random House, 2007) is the story of the men who climb three hundred feet up into the lost world of redwood canopies, a labyrinth of huckleberry bushes, hanging gardens of ferns and organisms yet to be named. If you are psyched to DIY, check out the school run by the author's teacher's teachers, Peter and Patty Jenkins Tree Climber International in Atlanta (www.treeclimbing.com). Their two-day program for beginners will get you started.
For a climb up a Douglas fir that can include a dinner party or an overnight in a "treeboat/sleeping hammock" 160 feet up, contact Oregon's Pacific Tree Climbing Institute (www.pacifictreeclimbing.com).
—Treehouse Hotels: Vacation close to the stars in Swedish Lapland, where leading Scandinavian architects have designed sustainable "tree house" lodgings in a pine forest overlooking the Lule River. The hotel offers individual treehouses with imaginative themes (UFO, bird's nest, mirrored cube) plus cutting edge adventures–dogsledding, ice dining and northern light photography (www. treehotel.se/).
Inspired to build your own treehouse—thatched roof, Gothic windows, bamboo paneled walls– see BE IN A TREEHOUSE by Pete Nelson (Abrams, 2014) for amazing ideas.
–Arbor Day Foundation: To help create a world with cleaner air and water; reduced climate change, species loss and poverty; and beauty for the human soul, become an activist by planting trees in your community. For more information visit, www.arborday.com.
–Gibbes Museum of Art: Volunteer to help artist Patrick Dougherty weave twigs and branches together to create environmental sculpture at the Gibbes Museum during March 2017. See Patrick Dougherty Installation.